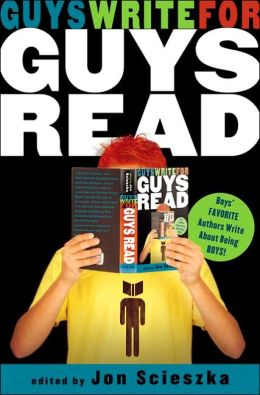 Guys Write for Guys Read:
Boys' Favorite Authors Write about Being Boys
edited by Jon Scieszka
As an admitted reader, I am uncomfortable making statements like,"It is a great girl book!" I am also leery of book jackets that scream, "If you are a boy, PICK ME UP! PICK ME UP!" For example, my treasured copy of
The Secret Garden
, remains clad in its worn pale green jacket. The cover has an oval shaped painting of Mary dressed in coat and hat as she emerges from the garden gate. The oval is surrounded by a border of roses. If a boy picked up this book, it would say to him, "I am a book for girls," and that would be that. Sadly, this boy would miss out on two remarkable boys, Dickon and Colin. They each have their own story to tell and it is worth listening to, whether you are a girl or a boy.
With that said, I do live in the real world, and I watch as my 7th and 8th grade girls rush to the books depicting a regally dressed young heroine on the cover. I realize that a soldier or dragon can go a long way to encouraging a boy to open the cover of a new title. And, I know that we loose boys to our newer forms of entertainment at a much higher rate than girls.
To improve the odds of boys staying in books, Jon Scieszka, author of
The True Story of the 3 Little Pigs
, launched his
Guys Read
web site. Additionally, he edited
Guys Write for Guys Read
. This book is a
high energy collection of short works: stories, essays, columns, cartoons, anecdotes, and artwork by today's most popular writers and illustrators. Guys Write features work from Brian Jacques, Jerry Spinelli, Chris Crutcher, Mo Willems, Chris Van Allsburg, Matt Groening, Neil Gaiman, the editors and columnists from Sports Illustrated,The Onion and Esquire magazines, and more.
Along with this collection, you will find Guys Read Thrillers, Guys Read Funny Business and Guys Read the Sports Pages. As I have admitted before, I am a fan of shorter work. The pace suits my sometimes wondering attention. I also adore collections
containing
different authors. It lets me choose a story that suits my mood each time I sit down to read.