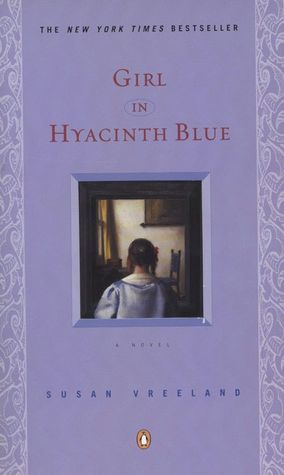 Girl in Hyacinth Blue
by Susan Vreeland
I have a love for reading in general, which means I will try to read anything. I must admit, however, that I am a lover of the short story. I believe this infatuation began as this young, would-be writer stumbled onto Flannery O'Connor and Eudora Welty. As a girl of the south, I hung on their every word and relaxed in the familiar rhythm of their language. I have been thinking a lot about fiction novels, working with this blog, but wanted to shed a little light on other forms of writing: non-fiction, poetry, and short stories. For today I have chosen a hybrid.
The novel
Girl in Hyacinth Blue
by Susan Vreeland is a fiction novel. The interesting thing about it, to me, is that a few of its chapters, namely "Love Enough," "Love Burning," "A Night Different Form All Other Nights," and "Morningshine," were originally published as short stories. She has masterfully filled in the gaps with equally engaging stories to bring this novel to life.
The book's storyline evolves around the life of a painting by Vermeer. It begins with the most recent owner and traces its passage through households and time, chapter by chapter. The vocabulary is advanced. The multiple plots and characters add to the book's appeal and complexity. It is perfect for a high school reader who loves art. The fact that each chapter is a story unto itself makes it a great book to pick up when you just need to fill a little bit of time. Do you have a favorite short story?