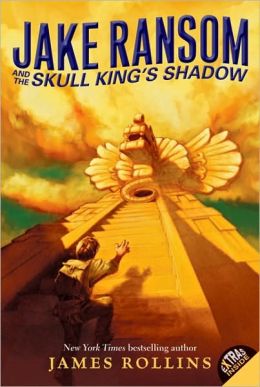 Jake Ransom and the Skull King's Shadow
by James Rollins
I was flipping through a back issue of School Library Journal when I found this review:
"Gr 5–9—Eighth-grader Jake and his older sister Kady are invited to the British Museum to view the Mayan treasures their archaeologist parents discovered shortly before their disappearance three years earlier. Jake takes along what is left of their parents' possessions: a field log, a sketch book, and two halves of a gold Mayan coin (worn by the siblings around their necks). At the exhibit, Jake examines a two-foot-tall solid gold pyramid with a round hole in its side. He places the Mayan coin in the slot, which creates an explosion, transporting the siblings to another place and time. Calypsos is a land inhabited by dinosaurs, mythical and fantastical creatures, and people from long-lost civilizations.
Upon their arrival, Jake and Kady befriend two teens, Pindor and Marika. Together they must save Calypsos from the banished Skull King who threatens to return and take over the land. The pace of the story is occasionally a little slow, but readers who stick with it will be caught up in the adventure, particularly those who are interested in Mayan culture. The characters are likable, especially Jake and Pindor, who experience the insecurities of most teens. Simple drawings add visual aid to the descriptions of Mayan glyphs and other objects. Unanswered questions surrounding their parents' disappearance and the connection between Jake and the Skull King will have readers eagerly looking for the next installment in the series.—Kelley Siegrist, Farmington Community Library, MI"
Now, lately I have been having a lot of requests for books for a child who loves books by Rick Riordan, so the review jumped out at me. I have to admit, I am not sure why I
didn't
notice it the first time through. I was intrigued by the hero, Jake Ransom, a cross between Carter Kane and Indiana Jones, so I gave it a try.
I liked the book, but wish we could find a way to liberate children without disposing of their parents. Are we really that bad?
It was a fun read and I am recommending it to my son for a break from his required reading at school. I find that as the books on his required reading list get harder, I need to help him find the books that simply entertain. For my 7th grader, Mr. Rollins' new series fits the bill. If he likes the first book as much as I suspect, I will check out the next in the series, Jake Ransom and the Howling Sphinx.