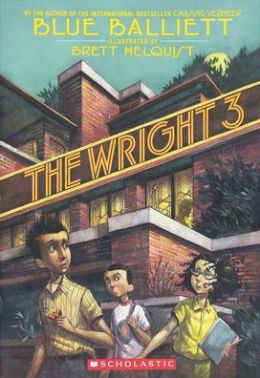 The Wright 3
by Blue Balliett
I am doing research on the 1920s and 1930s. To collect some oral histories before they vanish, I am headed to Chicago for the week. I am so excited! Chicago is perhaps my favorite town. One of the reasons I love it so much is that is it so beautiful. One of my favorite things to do there is take the Chicago Architecture Foundation's river tour. We won't be able to go on this trip because they don't run the tour in the winter. But, we are hopefully going to take a trip out to Oak Park and see the many homes Frank Lloyd Wright designed there.
If you have a reader who is interested in building and likes a good mystery, you should check out
The Wright 3
by Blue Balliett. In the book,
we met three youngsters: Petra, Calder and Tommy. They attend school at the Hyde Park Lab School and have what could kindly be described as an eccentric teacher. Think Mrs. Frizzle, but in love with art and literature. The children's classroom is put into a frenzy when their teacher tells them that the Robie House, a home designed by local hero Frank Lloyd Wright, in is need of significant repair, and there is more. Because the University that owns it can not repair the home, they have instead sold pieces of it to the world's best museum. The house will be disassembled and shipped around the world to create indoor exhibitions.
Well, this horrifies the children and their teacher, and they decide to attempted to save the house. Always looking for a teachable moment, Ms. Isabel Hussey insists that her students learn all they can about the house. This includes a visit to the home, a short walk from the school. Along the way, many mysterious things begin to happen causing the teacher and the families to worry that the children might come to some harm. Though they were meant to stop investigating the home, Petra, Calder and Tommy do not. As they continue looking into the house, more mysteries and danger surround the children.
This is a clever tale. It is fast-paced for its intended audience, 3rd-5th graders. As a bonus, the reader learns about Frank Lloyd Wright, and in an interesting twist, about H.G. Wells and his book
The Invisible Man.
If your reader makes friends with these children, he or she can read more about them in
Chasing Vermeer
and
The Calder Game
also by Blue Balliett.