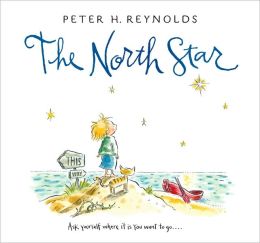 The North Star
by Peter H. Reynolds
A year ago I started this blog, because it concerns me that so many capable readers stop reading between 3rd-8th grade. After making their way through the Harry Potter and Percy Jackson books, too many children think there are not any more great books to read. I wanted to help parents respond when their children proclaim, "I don't read, because I can't find a good book!" With this in mind, I have purposely left out the many amazingly illustrated and written picture books. The intended audience for these masterpieces are adults reading aloud to early readers.
Among this genre of books, you will find works of art and books of true wisdom. The
North Star
by Peter H. Reynolds belongs in this category. It is dedicated to "all of the parents and educators of the world, and to those who are brave enough to follow their dreams." The words and the drawings effectively point out the well worn paths of decision making and the possible effects of choosing one of them. In contrast they add beauty and wonder to the paths less traveled. The story gives voice to following your own instincts and dreams. It celebrates the individual.
This book is a touch stone for me and my son. When we hit bumps or times of indecision, I pull it out and read it. Miller can predict the conversion that will follow, if he arrives home to see the book out in the living room. For us it is a physical reminder to live the words of Henry D. Thoreau, "Go confidently in the direction of your dreams, live the live you have imagined."
If you are looking for some advice on how to navigate your own path after reading,
The North Star
,
check out this old post about Ish, also by Peter H. Reynolds.