The research continues while the writing nags. It is a balancing act of joy for me. What to do? Read or write? For now, you will find me writing in the mornings and reading in the afternoon and evenings. Pouring over my notes from my trip to the National Archives in London, I remembered I hadn't shared my experiences there.
I took the long train ride to Kew from Primrose Hill, making two transfers before I arrived to the village. I walked through a quaint residential neighborhood making my way to the archives. I spent a little time getting my reading room ticket. I simply presented a utility bill and my passport and I was handed a card, valid for three years. Armed with a clear plastic bag containing my camera, pencils with recently removed erasers, and my surface (the best writing tool I have ever purchased), I made my way to the computerized catalog to order my desired documents. I submitted my top three items and made my way downstairs to wait for them to show up in my assigned cubicle. Excited, I ate quickly and went upstairs, cleared security and watched the clear red plexi door, waiting for my treasures.
The smell and texture of the documents transported me back to the past. I saw the hand writing of the very people I had been researching for a year. They were real, not fiction. I wished I had the forensic insight of Hanna Heath of Geraldine Brooks creation in
People of the Book.
Combing through the items I had picked before I left the US was hit or miss, but I found some real treasures. Whatever your interests, if you ever have a chance to dig into papers from the past, take it. It was a thrill from beginning to end.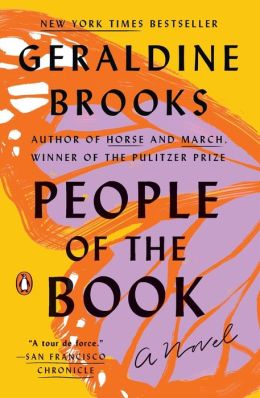 I would also recommend you or your young adult try out this amazing book. Hanna Heath, a rare book specialist is tasked with the restoration of an usually illustrated
Haggadah. It is a story about a book that has a past of its own and a story to tell. I loved it. Romance alert: I didn't read it with YA readers in mind, so you may want to check the brief romance scenes to make sure they fit within your family's boundaries, if you are recommending it to your young adult reader.