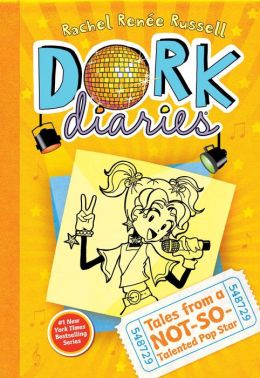 Dork Diaries
by Rachel Renee Russell
I finally read one of the
Dork Diary
books. My fourth grade book club chose #3, and I was compelled to comply. I have to say the kids love the series! So, I was willing to give it a go.
I think it resembles a Disney sitcom. The main character, Nikki, has two best friends and an enemy MacKinsey. According to the group, and other kids I know, the books all start with Nikki doing something silly and MacKinsey finding out about it. This enemy has quite a bit of dirt on Nikki, including that she only attends their lovely private school because her father exchanges bug extermination for her tuition. MacKinsey spends a good bit of time working to keep Nikki down.
In #3, Nikki is captured singing karaoke with her sister on film my MacKinsey. In order to avoid embarrassment, Nikki originally refrains from participating in the school wide talent show. The story unfolds from here and explores the common themes of friendship, determination, working to belong, and loyalty. If you are a reader or fan of the basic sitcom, you can guess the rest.
So, would I suggest you get the book for your kid? I would if you have a non-reading girl. It is a great starting place. Once she is hooked on reading, you can push her toward some of the other great comedians on the page. You could start with Clementine and Zoe, chic geek, and move toward Pippi Longstocking. Every child needs a path into reading. If this format might appeal to your reader, definitely give it a try!