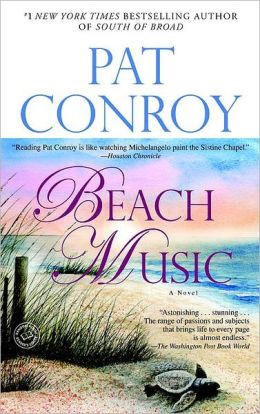 Beach Music
by Pat Conroy
We have just returned from Beaufort, SC, home of author Pat Conroy. He is one of my favorite authors because he writes wonderful characters. His are not among the books I read every year, but this year I picked up my copy of
Beach Music
and reread it. I did so because, after reading this book for the first time, I new I wanted to travel to this land of inlet rivers and salt marshes. I finished the book on the drive there. As we traveled around Beaufort County, I was able to imagine which real names matched up with the fictionally created towns Conroy described in the book.
It got me thinking that maybe I should try to match my son's books, every once in a while, to the places we plan to visit. As an example, I could have him read
Turtle in Paradise
if we were headed to Key West,
Little House on The Prairie
if we were going to drive through the Midwest, or
Wright 3
if we were flying to Chicago for the weekend.
For that matter, I could just suggest a book in an interesting place. I've always advocated reading as a form of imaginary travel. As a matter of fact, I take my cue in this way of thinking from Isak Denisen. In her book
Out of Africa
, Denisen asks Karen, after she finishes telling him a story, "Had you been to all of those places?" She responds, "Until now, I have only been a mental traveler."
So, whether or not you have plans to travel this spring or summer, consider helping your kids along with a book about a particular locale. If you know where you are headed, send me a note and I would be happy to suggest a book or two for your destination. If you are staying home, but want your kiddo to know more about a particular place, I would be happy to help out with that as well. So, here is to happy traveling, mental or otherwise.