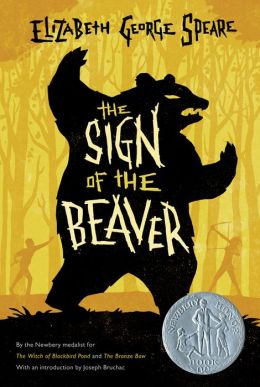 The Sign of the Beaver
by Elizabeth George Speare
When I think back to my childhood, I can picture my box set of the
Little House on the Prairie
books by Laura Ingalls Wilder. The books were light yellow and paperback. They fit perfectly into a light yellow cardboard box, with only 5 sides, creating a mini bookshelf for the books. I didn't like all of the stories.
The Long Winter
and
Little House on Plum Creek
were my favorites. Over time, the spines bulged with overuse, making it nearly impossible to fit the entire collection into their bookshelf box.
When my son started going to school, his primary Montessori teacher read
Little House in the Big Woods
to him and his classmates. He loved Pa, with his gun and his sense of adventure. I thought this would mark the beginning of our sharing the rest of the stories. So, continuing on the boy theme, I read
Farmer Boy
to him
.
He only thought it was fine. Not to be discouraged, I proceeded to the
Long Winter,
and he completely detested it. Sadly, I began to ponder how he would ever experience America's move into the wilderness. I tried a few of the other books on the theme, but finally moved on.
In the first grade, he brought home a book I had never heard of,
The Sign of the Beaver
by Elizabeth George Speare. His reading assignment was to read it aloud to me for 30 minutes each night. As the story began, I met a father and his son, Matt, heading out into the wilderness to start a new life for the family. Yeah, I cheered inside, a trip to the west, at last. Matt and his father built a cabin for the family. Once it was complete, Matt's father equipped him with a gun and the other necessary supplies for survival, so he could guard the new home while he traveled back East to get Matt's mother and sister.
Now Matt was only thirteen, but if you've read much about the migration West, this was old enough to entrust with such a task. In short order, a man ambushes Matt in his home and steals his gun. Matt is left with no protection and no simple way to hunt for food. Understanding that it would be some time before his family would return, if they returned, Matt began to create a system for survival. I have to tell you it is slow going until he meets a Native American boy named Attean from the Beaver Clan.
With Attean's help, Matt survives life and its adventures in the West. They become close friends and Matt is increasingly able to care for himself while he awaits his family. You and your reader will need to read it yourself to find out whether or not Matt's family makes their way back to the cabin and what happens to the unlikely friendship between Matt and Attean.
If you are thinking of this as an independent read for your child, they should be quite capable readers. It is suggested for children 10-14. If, on the other hand, you plan on reading it with her, get started when ever the themes fit your reader's interest.