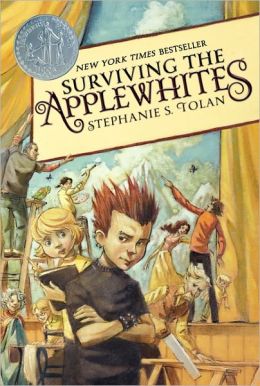 Surviving the Applewhites
By Stephanie Tolan
These days it seems like every newly published book for middle readers (4th-6th grade) I pick up is fantasy and in first person. I must admit, I long for the days of Ramona Quimby, from Beverely Cleary's Ramona series and Peter Hatcher, of Judy Blume's Fudge books. These wildly funny, realistic fiction novels shed light on the lives of young people in the way fantasy just can't. The mishaps that bring on the laugher and the tears are the same stunts our children are up to, and I think, for a newly capable reader, easier to interpret and identify with.
I recently read Surviving the Applewhites by Stephanie Tolan. It was published in 2003, after my time. And, my son is as obsessed as his peers with fantasy, so it never found its way to my house until now. I have to say it was a hoot. I can see why it won Newbery Honors and made its way onto the New York Times bestsellers list.
We are first introduced to Jake Semple, a kid who has used up all his chances. He has been kicked out of every school his has ever attended. He was even blamed for burning one of them down. Because his parents are in jail, he recently moved to North Carolina to live with his grandfather for a fresh start, but in just a few short weeks is expelled from yet another school.
As a last effort, Jake's grandfather approaches the Appleswhites for help. The Applewhites are family of artist who has created an Academy in their home to educate the four children. They all work independently and pursue their own interests. Once they decide, in a family meeting, to take on Jake, he is paired with the third daughter, to learn the ropes.
I must say, this story is not only funny, but has an inspirational theme: that we all have a gift, if only we can find the courage to employee it. If you and your reader are looking for a break from fantasy, you should give this story a try.