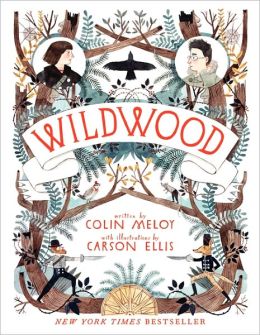 Wildwood
by Colin Meloy
illustrated by Carson Ellis
narration by Amanda Plumber
The listening project has picked up speed. I finished the book I mentioned last week. Surprise, it was
Wildwood
by Colin Meloy. In addition, I have completed another story and have moved on to book number 4. I am starting a listening journal, much like my reading journal, to keep up with the books I have completed. Keeping notes in one place about the books I am reading and hearing helps me to lead discussions in my book club meetings. When you read as many books as I do, many of them too quickly, you tend to lose track of some of the best details. I encourage my kids to keep journals, too. You might want to try it yourself. If nothing else, it might prevent you from picking up a used book, with enthusiasm, only to open it once you get home and see your own name written in the front. Honestly, this has happened to me!
The story of
Wildwood
was original and intricate. Every time I thought I had learned all of the rules of the place, a new twist was added. Pru and Curtis, two of the many heroic characters in this novel, were flawed and lovable. As a person who reads a lot of children's stories, I was delighted that these two 12 year olds had the courage to solicit help from others in the novel, with honesty. I guess they had enough troubles on their plates without compounding the problems by distrusting the adults and capable animals around them.
When we meet Pru, we quickly learn that she is a bright and capable 12 year old. Tragically, while responsible for her infant brother, Mac, he is kidnapped from a Portland, OR, park by a murder of crows. That's right a flock of crows is called a murder (and this is not the only wonderful new word your reader will learn in the course of reading this novel). After untangling this reality, Pru speeds away from the park trying to keep up with the birds. Finally acknowledging that the pursuit is hopeless, Pru watches the crows take her brother into the Impassible Forest.
Helpless, Pru makes her way home and finds that she is being followed by one of her classmates, Curtis. Though the two were once friends, as they've grown older, they have grown apart. Afraid and angry, Pru dismisses Curtis out of hand and continues to try to contemplate a plan that will help her rescue her brother.
She will construct a plan. She will carry it out. And, Curtis will be her unlikely helpmate. This is all I am going to say about it for now, except to add that while I loved the story and have even given a copy of the book to one of my closest friends who teaches 4th grade for a read-a-loud, I found the narration average. I like the sound of Amanda Plumber's voice, but I would have liked it if she read a little faster. The other downside of listening to this novel is that you will miss the fantastic illustrations by Carson Ellis. You may remember her from
Mysterious Benedict
Society
fame.