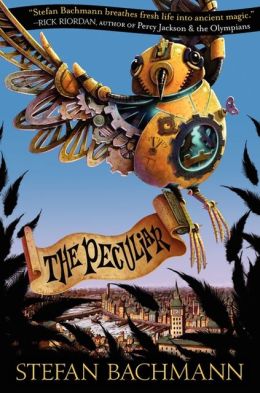 The Peculiar
by Stefan Bachmann
narrated by Peter Altschuler
So, the experiment is coming along nicely. I have listened to an entire book and clocked a few miles on the road and treadmill in the process. After listening to this novel, I am convinced that we have learning styles and that auditory learning is a weak area for me. Listening took some practice. I found that it was entirely too easy for my mind to wander and to lose track of the story. At first, this frustrated me because I did not know how to use my Nano. I thought I had to go back to the beginning of the chapter in order to retrace my steps. As I was complaining of this to my son, he taught me something new. There are two small dots on the bottom of the first screen I see when listening to a book. It means there is another page. On the second page, I can choose to loop the story, change the speed of narration (1x, 2x, 1/2x) and drag a little dot just a bit to the left and rewind. I have to say that bit of knowledge has smoothed the way for me to continue this listening exercise.
The book was terrific and it was written by 19 year old Stefan Bachmann! Now I am not saying it will replace T
he Outsiders
, by then 16 year old S.E. Hinton, as the best novel written by a young phenom, but it is well worth your time if you like fantasy or
steampunk
. I must tell you that the narration added to the thrill of the plot. Peter Altschuler masterly created characters through distinguishable accents and voice changes. And, the pace at which he read the novel supported the plot brilliantly.
This mysterious novel, which begins with a description of the Fay and Human Wars, presents the reader, or listener in this case, with the tale of conflict. The fay have long been subordinate to the humans since losing the wars. Magic has been subdued by all of the metal used by this Victorian age England. One politically powerful fairy, Lord Lickerish, is poised to reclaim the world for the fairies. In order to reach his goal, he has to find just the right changling or peculiar, a child who is only part fairy. When we come to the story, his plans have already killed 9 changlings. But, what Mr. Lickerish does not know is that his plans have been discovered by two unlikely and reluctant heroes, Bartholomew and Mr. Jelliby. Will they meet? Will they help each other foil Lord Lickerish's plans? I have to say it is worth reading or listening to find out.
Suggested Reading Level: Grade 5-8