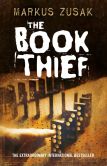 The Book Thief
by Markus Zusak
I am currently enrolled in a class called The Historian's Craft. Among other things, we have to read a scholarly text and write a book review. In addition to reading the text, we had to find at least two other reviews of the book. What I discovered in reading through the many reviews of the book I chose is that everyone finds something different in the text. Every review differs in the way it identifies significant information, techniques and conclusions.
I was given the opportunity to reread
The Book Thief
this month, when my seventh grade book club chose it for the October read. I must say that it was as original as I remembered, but different characters touched me. The first time I read the book, its protagonist Liesal demanded all of my attention. She is the focus of the book and the narrator, so this is no surprise. This time I fell in love with Max and Hans.
In Liesal's life there are four significant men: her brother, Rudy, Max and Hans. Max is the Jewish man who hides in her basement and Hans is her foster papa, who invites Max to stay. The lessons of generosity and determination I learned from these men surprised me. Death, the narrator, comments at one point that he expects them to meet him standing up. Apparently, this happens when a person has regularly given of himself, making his soul light.
If you want more details about the story
jump over to my last review on this touching text
. If you have read it before, give it another go, you will not be disappointed.