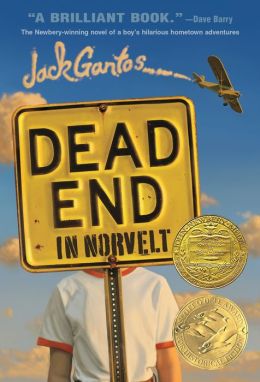 Dead End in Norvelt
by Jack Gantos
I have to say that I read this book last year before it was announced as a Newbery Medal winner and a Scott O'Dell award winner. The Newbery Medal is for contribution to children's literature and the Scott O'Dell for outstanding historical fiction. I loved the story. The narration is easy to follow, as I am used to living with a young teenager, and the plot completely original.
I haven't written about it here, because, frankly the book is hard to describe. It is basically about a boy, who's plans for a summer of adventure are curtailed when he is grounded and loaned out to the writer of the local obituaries. I had a bit of trouble getting my son to bite when I suggested he read the novel. But, because I rarely lead him astray he took a chance.
I just asked him what his thoughts on the book are. He said, "Dead End in Norvelt was a great book, I should read it again. I think the funniest part is the old guy who rides a tricycle and the time the old lady tries to help Jack with his nose bleeds."
The humor is dry, and at times even bizarre and the historical insight novel. I just have to say, with this one you are just going to have to trust me...It is worth the time.