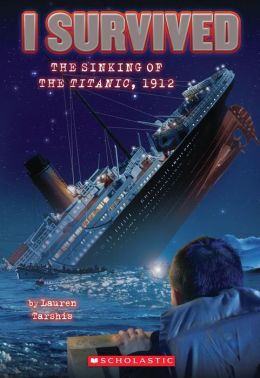 I Survived:
The Sinking of the Titanic, 1912
by Lauren Tarshis
I watched a bit of the CNN coverage of the Carnival cruise ship being towed into port the other night. I must say, it did nothing to encourage me to book a trip. I did, however, find some of the comments of the de-boarding passengers interesting. One person described it as being, "like a third world country." Another pair of girls, who had won the trip at a basketball game, said it was "manageable,but exhausting." The one word I kept hearing over and again was "survived."
With this in mind, as I sit down to write this post a little under the weather I must admit, I thought of this series of books published by scholastic called, "
I Survived
." Without a doubt, one of the all time favorites is
I Survived: The Sinking of the Titanic, 1912
. These books are great for kids in 3rd grade and up. Each of the stories has a child as the main character. They are present during the titled event and survive each time. The books are a great introduction to historical fiction. Each gives facts of the events while creating an empathetic character for the reader to identify with.
Some of the historical events covered in the series include:
September 11, 2001
Hurricane Katrina, 2005
Pearl Harbor, 1941
Battle of Gettysburg, 1863
San Francisco Earthquake, 1906
You should pick one up at your next book fair! They are simply fun to read.