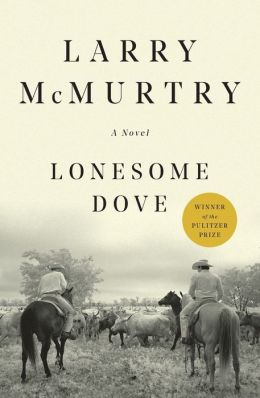 Lonesome Dove
by Larry McMurtry
I have had some of the best moments lately. I try to keep track, because all too often the little difficulties in life get me down. Having a list of the great small moments reminds me that it is all worth it. Anyway, the moments....
First, I went to check out my page on our local library's web site and discovered that Larry McMurtry will be coming for our Literary Festival. He is among my favorite authors and I must sadly admit that I have been as giddy as a school girl since I read the news. He will be at a dinner that will serve as a fundraiser for the event and the next day he and Diana Ossana will be reading in an event open to the public.
Now, if you are not familiar with Larry McMurtry, you ought to pick up one of his more than forty novels, or watch one of the films adapted from them. Lonesome Dove, Terms of Endearment, Some Can Whistle and the Last Picture Show are among my favorite novels, if not films. McMurtry and Ossana received the Academy Award for their adaptation of Brokeback Mountain and have created many other screen plays together. Needless to say I will be attending the dinner and if you are from Little Rock you might consider coming to one of the events as well. You will find more information here,
just click
.
Second, my husband has been scouring the used book stores online, procuring my favorite McMurtry novels in hard back, in case there is an opportunity to have books signed. My collection of his novels is sparse, given my admiration for his work. I first read him in college. With a limited budget, most books were borrowed from my beloved library or if at all possible purchased in paper back. It is wonderful watching the collection grow. What is more wonderful, is that I am again opening the pages of this craftsman's work. His characters are among my best fictional friends. Catching up with them after all this time is reassuring and comforting.