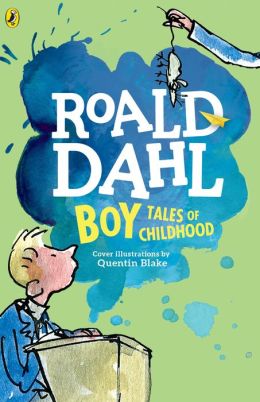 Boy: Tales of Childhood
by Roald Dahl
I find that you always have to be on the look out for a book suggestion. If you are reading this, I hope you have found some good recommendations here. I must admit that I can find a book title everywhere. The other afternoon, while flipping channels, I came across the movie, You've Got Mail. They were at the scene where Tom Hanks takes his aunt and brother into Meg Ryan's bookstore for story hour. With an eye on the book Ryan was reading, I noticed the name Roald Dahl under the title
Boy
. Now, I was sure I had read every book written by the man, so this intrigued me.
I turned off the t.v., got out my computer, opened up our library's web site, and searched for the book. I found it in the Biography section. Yeah! Requesting it, I only had to wait a day or two and it was then mine to borrow and read. (I LOVE the lending library!)
I was so delighted by the stories of this man's boyhood. The tales he shares in this volume stretch from birth to age 20. I have been doing research on my grandfather, lately, and was delighted to find that they were born in the same year, 1916. After all of my reading about the depression in America, it was nice to learn a little about what was happening on the other side of the pond. Not to mention that it just fueled my longing for the next installment of Downton Abbey.
If your young reader isn't a fan of fiction, you ought to let them try this biography. As usual, Dahl paints dramatic and hilarious portraits, and in this case they are real. They will also be granted some insight into the seeds of some of his famous novels. If you find that they have an appetite for the book, there are a few other volumes:
D is for Dahl
, facts and trivia about the author, and
Going Solo
, about his time in the Royal Air Force during WWII. And as ever, his novels are without compare. Reading his biography might the just the thing to persuade your young reader to give his novels a try!