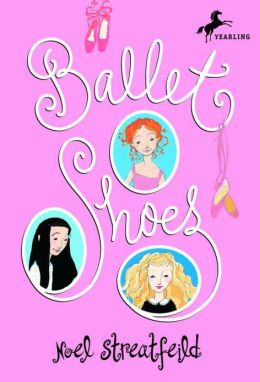 Ballet Shoes
by Noel Streatfeild
My niece was recently cast as the parrot in her school production of Aladdin. Needless to say, she is thrilled. In this role, she gets to sing and make jokes. A perfect part! To mark the occasion, I wanted to send along a book with the perfect note inscribed on the inside cover. When I went searching for a title I was reminded of the books about shoes written by Noel Streatfeild. Because I have never read any of the stories, I started with
Ballet Shoes.
It gets a remarkable recommendation by the online reading community and teachers.
I must say I agree with the critics. The language is challenging for a middle reader, which I like, and the lessons in hard work and determination are well explored.
The novel concerns three orphans who are adopted by an explorer and collector. While he is away on a rather lengthy voyage, his great niece is left to raise the girls. All is well, until the money begins to run out. Uncle Gum has been away too long. To raise money, and as it turns out the girls, the house is opened to boarders. Each boarder has a special quality or talent that they impress upon the girls. It is nice to read how this "village" comes together to sacrifice to improve the children's lives.The last thing you should know is that the girls claim one another as sisters and invent a surname of their very own- Fossil...you will have to read the novel to find out why. With the knowledge that they are the only Fossils around, they vow to make the name famous.
You should know that I did get
Ballet Shoes
for my niece, but as a prequel to
Theater Shoes
, the novel I will give to her on opening night!