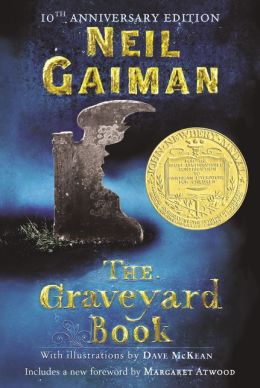 The Graveyard Book
by Neil Gaiman
Book clubs are up and running once again. The first group to assemble were the fifth graders at 8:00 am. I have to tell you that the hour made this a difficult meeting for me. If you combine that with the fact that many of the members were new to the group this year, I worried that we might not ever get things rolling.
The book I chose for the group was a bust. By 8:05, we had established that the book was uninteresting and too long. What to do for the remaining 50 minutes? We talked about some of our favorite summer reading. This brought us to 8:15. I was certain that
Jerusalem
, the keeper of our book room, had stopped the clocks. Staring out into the group, I made one last attempt at engaging them. I had brought along a bag of books as suggestions for next month's reading. After showing them to my readers, I encouraged them to browse the book room shelves for the books they found appealing. We collected 10 books. They turned out to be magic books.
As the students sorted through the titles, they started talking with each other. They read the book descriptions. They evaluated titles and cover art. They pondered what the awards some of them had received might be for. Finally, they put the books into 3 categories: Mystery, Horror, Realistic Fiction.
I asked how they planned to narrow down the choices. After all, they only needed to read one book. Just like in House Hunter, they started by eliminating one genre, realistic fiction. Then, after much discussion, they reluctantly put the mysteries aside, deciding on horror for October. A pretty apt choice, I must say. I haven't read the book they selected yet, so I will report on that before Halloween. I do, however, have a favorite horror book myself,
The Graveyard Book
by Neil Gaiman.
The first few pages are heart wrenching. I hate to give away the drama, but I will tell you that it results in a baby finding a new home in a graveyard. In the world of Gaiman's creation, the ghost of a person continues living in the graveyard in which they are buried. The baby, BOD, is raised by the ghosts of this graveyard and the other sorts of creatures that inhabit it like werewolves and vampires. Life is good for Bod as long as he stays in the graveyard. But, as he ventures out, the events that forced him to his new home conspire to find him.
If you are not taken with this plot line, check out the post "
Mystery Anyone
?" You will find some other suggestions there.