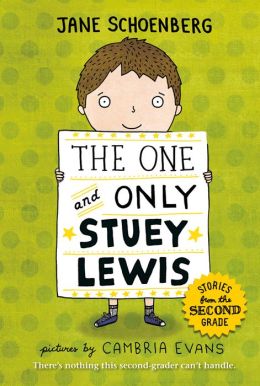 The One and Only Stuey Lewis
by Jane Schoenberg
With the impending winter break and all of the school requirements that come with it, I suspended book clubs for the months of December and January. I will meet back up with the kids in February. In the mean time, I have stacks of books to read and consider. I approached the stack today to find a book recommended to me by a third grade boy on the top. The green cover makes it stand out, and for this girl of the 80's, the name could only bring back memories of Huey Lewis and the News; "That's the Power of Love!"
Much to my delight, it was a good read.
The One and Only Stuey Lewis
has four chapters that are really short stories. In the first story we meet Stuey, a second grader, who is afraid to admit he is "still" not a good reader. His best friend Will is an excellent reader. Stuey has a caring teacher,who discovers his secret, and admits to him that she was not a great reader until the end of 3rd grade. This gives Stuey the confidence he needs to quietly begin his journey to becoming a capable reader.
Each of the chapters has a soft lesson. What I like best about it is that the adults in the story help Stuey, rather than adding to the stupidity of the tale. It makes me think a little of my beloved Great Brain. If your new reader likes the book, there are others in the series.