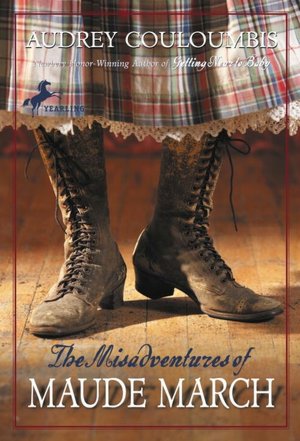 The Misadventures of Maude March
by Audrey Couloumbis
I have long been fascinated with the West. I guess it started with Laura Ingalls' travels to Wisconsin and just kept going westward. The stories of Wyatt Earp, Doc Holiday and all of the characters who found their way to Deadwood, SD, fill my imagination still today. I really love it when I find a story of a girl who braved the west. I read just about any legend, historical fiction or non-fiction that concerns the 19th and early 20th Century and American's westward expansion. I was thrilled to find this novel by Audrey Couloumbis a few years ago for my 4th grade book club. It was a club filled with adventurous young girls, and this story filled the bill.
This is a true romp through the west. The narrator, Sally, is an eleven year old girl. She is a voracious reader of dime store westerns. She idolizes the heroes and is thrilled by the villains When Sally and her sister, Maude, are orphaned for the second time, they find themselves in the custody of a family that essentially sentences them to a life of indentured servitude. Unwilling to stand for the abuse, Maude and Sally, break into their old home, pack what are their belongings, and make their way alone to find a long lost uncle in Independence, MO. To improve their chances of safe travel, the girls disguise themselves as boys and set out.
Along the trail, though, there are scads of mishaps and scrapes, and soon they are being pursued for bank-robbing, horse-thievery, and murder.
In honor of the girls' disguises and their adventures in the West, I want to offer you a chance to win a pair a boots!
So, Now for the fun part, Country Outfitter is giving you a chance to win a $150 gift certificate to go shopping on them! You could choose a lace-up style or more of a work boot. I found a square-toed work boot with red stitching and a pink lining by Ariat that I love. They are very comfortable and work beautifully with jeans- my favorite thing to wear.
We are making it soooo simple for you to enter in just two little steps.
1. Click Here & submit your email address to Country Outfitter (you may receive occasional emails from them).
2. Leave a comment here on the blog letting me know you submitted your email to Country Outfitter.
A random winner will be selected in two weeks (November 26, 2012 after 9pm EST).
A Break for Technical Interuption:
DISCLOSURE: CountryOutfitter, a retailer of Ariat, gave me a pair Women's Ranchbaby Square Toe Brown Rebel Boots to review.