The Tale of Despereaux
by Kate DiCamillo
Today is Thanksgiving and most of my girlfriends are working feverishly, and with joy I might add, to create spellbinding meals for their families. I have been checking in with many of them through their social media, and it is amazing how much love
Pioneer Woman
is getting out in the blogosphere. Between the
cinnamon rolls
and
the perfect pie crust
, I must admit I have been looking longingly at the Kitchen Aid mixers door buster specials in the Black Friday ads. I am, instead, listening to some of my favorite radio shows from the past, writing, and thinking about what books I get to read next. Don't get me wrong, I do love food and eating, but I luckily have a mother who also loves to prepare meals for her family. I am a grateful benefactor of her passions and it frees up my time so I get to spend some quiet time dwelling with mine.
Clearly, I prefer a day spent with a story over a day spent with food and it brought to mind a delightful scene in Kate DiCamillo's
Tale of Despereaux
. Despereaux, a small mouse whose siblings have taken it upon themselves to educate him in the ways of being a mouse, accompanies his sister Merlot into the castle library for a lesson in eating paper.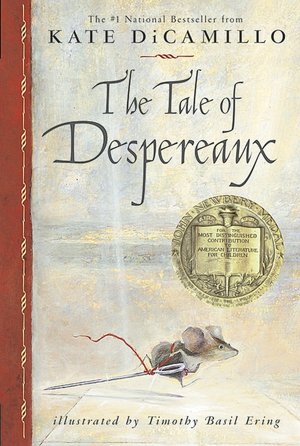 "Here," said Merlot, "follow me, small brother, and I will instruct you on the fine points of how to nibble paper."
Merlot scurried up a chair and from there hopped onto a table on which there sat a huge, open book.
"This way, small brother," she said as she crawled onto the pages of the book.
And Despereaux followed her from the chair, to the table, to the page.
"Now then," said Merlot. "This glue, here, is tasty, and the paper edges are crunchy and yummy, like so." She nibbled the edge of the page and then looked over at Despereaux.
"You try," she said "First a bite of some glue and then follow it with a crunch of paper. And these squiggles. They are very tasty."
Despereaux looked down at the book, and something remarkable happened. The marks on the pages, the "squiggles" as Merlot referred to them, arranged themselves into shapes. The shapes arranged themselves into words, and the words spelled out a delicious and wonderful phrase: Once Upon a Time.
"'Once upon a time,'" whispered Despereaux.
"What?" said Merlot.
"Nothing."
"Eat," said Merlot.
"I couldn't possibly," said Despereaux, backing away from the book.
"Why?"
"Um," said Despereaux. "It would ruin the story."
This interaction just confirms Merlot's belief that Despereaux is unusual and helps the reader understand that Despereaux's tale will be interesting at least. The narrator tells us directly, "Reader, you must know that an interesting fate awaits almost everyone, mouse or man, who does not conform."
This novel has everything we have come to expect from Kate DiCamillo. The plot is original, lively, and twisted. It tells the story of the underdog and assures the reader that justice does exist. You and your reader will come to love both the heroes and the villains And, the adventure draws you down the staircase to a remarkable end. "What happens in the end?" you might ask. Well, Ms. DiCamillio would respond, "Reader, it is your destiny to find out."
Help!
I am looking for some current realistic fiction for my 8th grade book club, which is made up of girls. Everything I pick up is filled with sex and/or booze, which they are not up for (at least no yet) or has a historical angle. They just finished
Sarah's Key
and
loved it. But, now they want to try something without "a history lesson." What would you recommend?