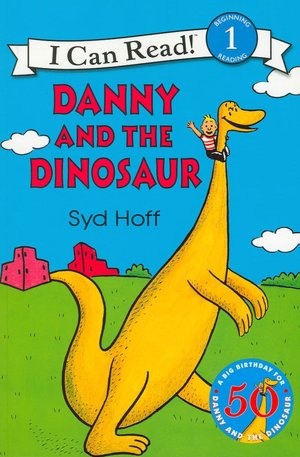 Danny and the Dinosaur
by Syd Hoff
I am having a sentimental week. My only child will be turning 12 tomorrow. He is quite the reader. As a matter of fact, he is currently reading the
Iliad
for his independent reading. But, last night when I went to tell him good night, I noticed his copy of
Danny and the Dinosaur
by Syd Hoff on his bed side table. I asked, " What's this doing here?" He replied simply, "Oh, I was just reading it." That is all that was said, but I could not help thinking that he, too, is feeling a little nostalgic.
What a delight this little reader is! And, Danny is my son all over. At that age, Miller was just like Danny. He loved museums with their Indians, bears, Eskimos, guns and swords. Most of all he loved the dinosaurs. I thought he might lose his mind the first time he saw Sue, the T-Rex, at the Field Museum in Chicago. It is also easy for me to imagine that one of his many imaginary friends was a dinosaur that accompanied him through the neighborhood, visiting school, the park and even the zoo.
If you have a new reader, ready to tackle a book filled with simple sentences, I suggest you give this classic a try. It will not disappoint!