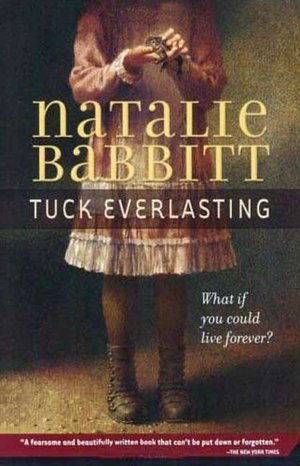 Tuck Everlasting
by Natalie Babbitt
One of the true luxuries of this life is sitting still and listening as someone reads a great book aloud to you. Though this happens less and less for me, I have found a substitute, the audio book. Though I rarely allow myself the pleasure of sitting while I listen, it is still a joy to hear rather than read words on occasion. Because I don't typically give the audio book my full attention, I use them for rereading books. Last night I "heard", as my son would say, the conclusion of
Tuck Everlasting.
This classic by Natalie Babbit was as wonderful as I remember. Better still, I was able to check out the audio book from my local library. This is a win-win situation in my life; getting a great book for free.
My fifth grade book clubs have chosen to read
Tuck Everlasting
for the November book club meeting. I know they chose it, in part, because it has been made into a movie. I have not seen the movie, but based on our conversions over the years, whether or not the movie is any good, they believe if a book has been made into a movie, the book must be good. If I were to suggest just one Natalie Babbitt novel for them the read, it would be
Searching for Delicious
, but
Tuck Everlasting
does not disappoint.
In the late 1800's, a young girl Winnie feels trapped by her life. With no friends, but a curious toad, and no freedom, she decides she must leave home so that she can make a difference in the world. Losing her courage by the next morning, she decides to simply follow her new friend the toad into the woods. There, she discovers a beautiful older boy who captivates her. She is frozen to her spot as she watches every move of the boy. All is quiet as she watches him drink from a spring, until he suggests she come out of hiding. Startled, Winnie approaches him. They talk for a bit, until a sudden chaos breaks out. In the excitement, Winnie is taken by the boy and his family. Now she is leaving home, despite her change in plan.
The family means no harm to the girl; they only fear for her and her community and take her to explain about the spring. The story of the spring, the Tuck family and the man in the yellow suit, is both believable and unbelievable. The tale unfolds with excitement and intrigue. It reveals the true nature of all its characters by its end. It ultimately tells of stunning loyalty and love.