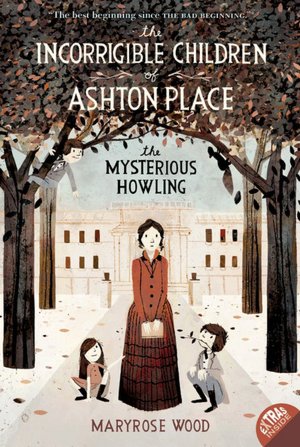 The Incorrigible Children of Ashton Place: The Mysterious Howling
by Maryrose Wood
I am a very visual person. I love to make beautiful photographs. I also love admiring skills in others that I do not possess. One of these skills is illustration. When I first saw this book on the new arrivals shelf at my local library, I was immediately drawn in. As you may or may not know, the author and illustrator of a book rarely, if ever, meet when working on a book together. I find this fact to be remarkable when I see a cover that so perfectly teases me about the contents of a novel. In this case, the cover did the trick. I immediately thought, "Jane Eyre meets Tarzan and his sister," and I was pretty close to the mark.
In this kick-off to
the Incorrigible Children of Ashton Place
, we meet a darling 15 year old governess named Penelope Lumley. Having just completed her training at the
Swanburne Academy for Poor Bright Females, Penelope is hired to look after three children: Alexander,
Beowulf
, and
Cassiopeia. Upon arrival, she discovers that these children are unique. Some might even say wild.
She proves to be up to the task of guiding and teaching the children. But with every fact she learns, she finds she has 10 more questions. Where did these children come from? Why do they live in the estate's surrounding forests?
Why does Old Timothy, the coachman, lurk around every corner?
I encourage you to read this charming book to find out the answers and have a ball while doing it. I would recommend it for 3-5 grade children looking to take a peek into an estate of old.