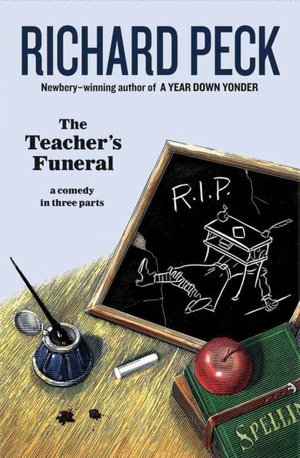 The Teacher's Funeral
by Richard Peck
Today was the first day for book club registration at the school my son attends. I went to all of the classes, 3rd-8th grades, presented the forms and explained to every student how to join our group. This year the children will pick books for themselves. To prime the selection process, I put a few titles on each ballot and invited write-ins. On the fourth grade book list I included this wonderfully funny book by Richard Peck,
The Teacher's Funeral
.
It has one of the most appealing first lines in a novel for a student, if you find yourself in a school classroom for most of your young days- "If your teacher has to die, August isn't a bad time of year for it." This book, is full of wit and sass. Russell Culver is fifteen in 1904, and he's raring to leave his tiny Indiana farm town for the endless sky of the Dakotas. To him, school has been nothing but a chain holding him back from his dreams. Maybe now that his teacher has passed on, they'll shut the school down entirely and leave him free to roam.
I imagine during these August days, when the temperatures are so high that our students must have indoor recess, many a student awakens from a daydream of their own. And while their dreams might immediately seem wildly different, after reading this book, you will be reminded that the theme of youth's interests in taking on the world is still very much alive in this new century of ours.