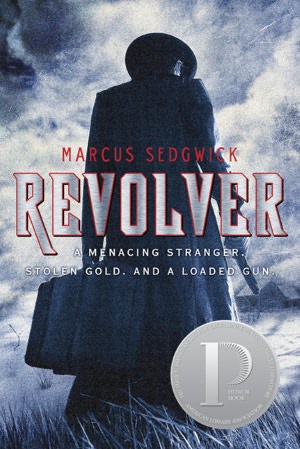 Revolver
by Marcus Sedgwick
I have a fascination with the West. Wyatt Earp, Doc Holliday, any lone gunman really, making his way through the West catches my attention. My first great love in the Western world was
Lonesome Dove
by Larry McMurtry. And, if you are looking for a good short story, with a hero toting a gun, you can never go wrong with Elmore Leonard. So you can image my glee when I read this cover:
Revolver
: A menacing stranger. Stolen gold. And A loaded gun.
Because I am only fair at creating drama on the page, let me offer you the overview from the publisher:
"A taut frontier survivor story, set at the time of the Alaska gold rush. In an isolated cabin, fourteen-year-old Sig is alone with a corpse: his father, who has fallen through the ice and frozen to death only hours earlier. Then comes a stranger claiming that Sig's father owes him a share of a horde of stolen gold. Sig's only protection is a loaded Colt revolver hidden in the cabin's storeroom. The question is, will Sig use the gun, and why?"
I truly enjoyed this book. It is currently being passed from student to student at my son's school. Every time I think I might get it back, I am told, "OH, so and so is reading it now." Well, that is the job of books. The artful descriptions really caught my attention. I was actually cold the entire time I was reading it. Just thinking about it makes me wonder where my jacket is.
If you are as fascinated by America's beginnings as I, give this book a try. You will end up in San Fransisco for your troubles-just like any frontiersman would dream.