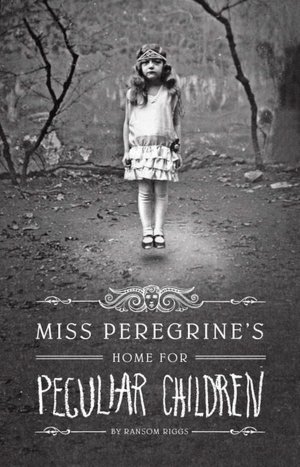 Miss Peregrine's Home for Peculiar Children
by Ransom Riggs
I just finished up registration for book club with the help of our Media Specialist, Mrs. Greer, and we have 162 students between 3rd and 8th grades participating. This is out of about 750 students, so I am very excited, if not just a bit overwhelmed. The registration forms include a ballot. There is also a place for children to write in their suggestions for the group. One of my most voracious readers in the 8th grade suggested this new novel by Ransom Riggs. I have just read it myself, but didn't include it with my suggestions, because as a rule I don't include a book unless is it available in paperback.
How do I describe this book?
Before I try, here is the overview I found on Barnes & Noble's website:
A mysterious island.
An abandoned orphanage.
A strange collection of very curious photographs.
It all waits to be discovered in Miss Peregrine's Home for Peculiar Children, an unforgettable novel that mixes fiction and photography in a thrilling reading experience. As our story opens, a horrific family tragedy sets sixteen-year-old Jacob journeying to a remote island off the coast of Wales, where he discovers the crumbling ruins of Miss Peregrine's Home for Peculiar Children. As Jacob explores its abandoned bedrooms and hallways, it becomes clear that the children were more than just peculiar. They may have been dangerous. They may have been quarantined on a deserted island for good reason. And somehow—impossible though it seems—they may still be alive.
This summary is accurate, but the thrill and adventure is not what I loved about the book. I am a sucker for rich characters, and this book is filled with them. I felt like I was reading a diary, and I came to care deeply for not only Jacob, the main character, but all of the other people, both peculiar and not, who help shape him into the man he is becoming. Upon completing the novel, I was also reminded that the people we love can always surprise us, and sometimes for the better.