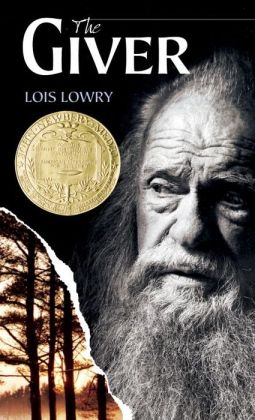 The Giver
by Lois Lowry
Last fall at the National Book Festival, I had the honor of attending a talk by the writer Lois Lowry. She was at the festival promoting her newest book,
Son
. It is a continuation of the story she began 11 years ago with her Newbery Award winning novel,
The Giver
. If you have middle school aged children, this title may be familiar to you.
The Giver
was added to the required reading list of most middle schools in America once it became so acclaimed. It was added because it met two major hurdles: it is loved by 11-13 year old readers, and it fulfills the science fiction requirements in my state's English standards.
Son
will be out in paperback soon and inevitably onto my 8th grade book club lists, so I decided to listen to
The Giver
this week. I must admit I also listened to
Miss Peregrine's Home for Peculiar Children.
I've read it before but enjoyed listening to it again all the same. If you want to know the details about this book, check out my
post
. It was wonderful listening to
The Giver
. I read it when it was published, and don't remember liking it as much as I did this time.
In the future, as described by Lois Lowry, every member of the community has a specific job that is assigned to them at the Ceremony of Twelve. The jobs are assigned to children after years of being observed by the adults of the community. Once you are given a job, it is yours for a lifetime. Twelve year old Jonas is assigned the job of receiver. There is only one receiver in the community at a time. He is the only member of the community who holds memories. Once Jonas is chosen, the past receiver becomes the giver and begins passing all of his memories to Jonas. At first, the process seems delightful to Jonas, but in short order, the pain of difficult memories begins to weigh on Jonas. The more he learns, the more he begins to distrust his society.
There are four stories that evolve around this futuristic society. According to Lowry, she only meant to write one story. She received so many inquiries about the characters of her novel she began adding other novels:
Gathering Blue
,
Messenger
and now
Son
. I must say, listening and reading these novels is worth your time.