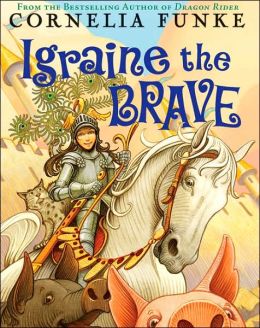 Igraine the Brave
by Cornelia Funke
narration by
Xanthe Elbrick
With delight, I am planning my first trip to Great Britain. As I read through the travel books, I keep seeing the beautiful images of the castles. This is the land of fairies, dragon, knights and squires that I grew up reading about. The creators of these stories have painted a country that I can only hope will live up in reality.
One newer book on the scene, that visits the land of magic, knights and honor is
Igraine the Brave
by Cornelia Funke. This is exactly the kind of book I would have devoured in elementary school. In my day, all of the heroes of these tales were men. In this wonderful story, Funke creates a spunky girl who plans to grow up to fill her grandfather's armor. Though her parents had hoped it was a phase, after a mishap of magic, they are forced to let her have a go with lance and armor.
In spite of the looming danger, Igraine leaves home on her quest to find the giant that can help undo the magical mistake made back at the castle. The road will be long, but the reward will be great. If she succeeds she will restore her family, defeat a dark lord, and help a sorrowful knight restore his honor.
The narration is upbeat, the characters lovable, and the story line clear. For any new reader who dreams of dragons and giants, talking cats, and magic mice, this book is a must.
Age Range 8-12