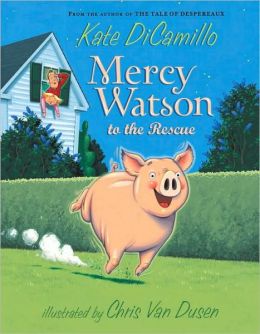 Mercy Watson to the Rescue
by Kate Di Camillo
It occurred to me on Friday, while I was playing pictionary with my third grade book clubs, that I rarely talk about books for them. They are all interested in reading Harry Potter and Percy Jackson, but there are some wonderfully funny books that will entertain them without too much challenge. This allows them to read on their own.
Kate Di Camillo has long been one of my favorite authors. After reading
Because of Winn Dixie
, I was a fan for life. In addition to the longer chapter books she writes for middle readers, she has given life to a wonderfully funny little pig named Mercy. Mercy belongs to the Watsons and they love her dearly. Mercy lives next door to the Lincolns, sisters Eugenia and Baby. The neighbors have mixed opinions of Mercy.
In Mercy's first adventure we learn about her love of buttered toast. A love that will help her rescue her beloved Watson family in a time of need. Mercy is comical and would be happy in the company of other literary characters like Amelia Bedelia and Clifford. Trouble is never too far away, but Mercy always manages to survive.