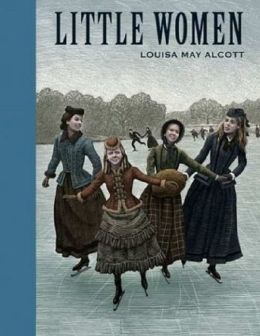 Little Women
by Louisa May Alcott
I believe many things bring people together; among them common experiences. Reading a book can be one such experience. It is great when a new book becomes popular. I can always hear the kids talking about the newest Rick Riordan or James Patterson once they are available. Reading classic novels can bring people from different generations together. To that end, a few colleagues of mine and I have been working on a list of 100 books all kids should read during their K-12 years.
For our book club parties, I created a pictionary game from the list. As the game proceeded, it was clear to me that these particular 5th graders were not familiar with the titles they were finding on the tickets. One began drawing and quickly got the group to guess the word "little." I expected the guesser to go straight to
Stuart Little
or
Little Women.
Instead, they never got the title. It was
Little Women
by Louisa May Alcott. I was stunned. So, if your reader hasn't given this classic a try, maybe it is time.
The setting is a New England town during the Civil War, actually Alcott's home, Orchard House, in Concord. A family's father, Mr. March, has left for the War. He leaves behind his wife and four daughters, with little to survive on but their love for one another. The novel weaves together the virtues of domesticity and work, while commenting on the pursuit of wealth. It has been well loved since its release in 1868. It was sold as a book for girls, but I believe the strength of the male characters makes it a reasoned, if not good, choice for boys. If nothing else, your boys will become familiar with the challenges of being a woman in the 1860's.
I grew up loving these women. Marmee, Amy, Beth, Jo and Meg. I even had a set of Madame Alexander Little Women dolls that I shared with my sister. We wore them out! Even if it doesn't have an enduring impact on your reader, it will allow them to share some common ground with the generation of readers that have come before them.
Note: If you, too, loved
Little Women
as a child, you should read Geraldine Brooks novel,
March
. It is about Mr. March and what he was up to while he was away at war.