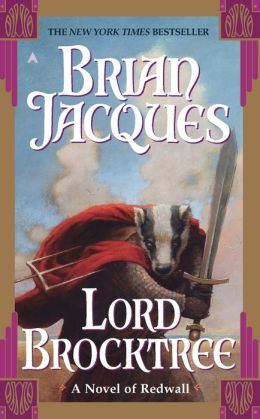 Lord Brocktree
by Brian Jacques
contributed review by my son, Code Name: Birdboy
I just read the book Lord Brocktree by Brian Jacques . It is about a warrior badger and his friends who try to take back their fort from a cat and a vermin. This book might sound childish but, it is very entertaining and converts real problems into an easy way to understand. This book is very humorous and action packed.
A young haremaid named Dotti is forced to leave her home because of family. On her travels she runs into Lord Brocktree, a badger warrior answering the call of the mountain. As they are moving they run into an otter-I wish I could remember his name. Together, they try to save Lord Stonepaw from Ungatt Tunn, the fiercesome warlord who commands thousands of soldiers.
Almost every character in Lord Brocktree is mentioned in other Redwall books, of which there a many.By the way, there is no order of the Tales of Redwall.