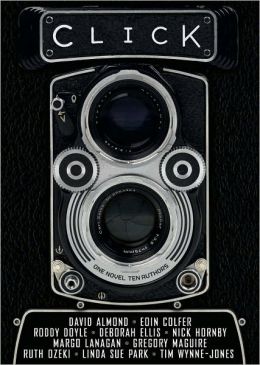 Click
by many authors, check out the cover
I am not sure if I have mentioned it before, but along with reading, writing and parenting, I make photographs. For the past few years, I have dabbled in the world of Fine Art Photography by submitting images to competitions. I have had enough success to be encouraged. I still work with film and have a camera that looks just like this cover. So, in the case of this book, I definitely judged the book by the cover. (Between the list of authors and the cover art, I was a goner!)
This book proved to be an unexpected surprise. It begins with the death of a beloved grandfather. His grandchildren each receive gifts from him. As the grandson of a famous photographer, Jason inherits a camera and a few prints of famous athletes signed by the subject. The granddaughter, Maggie, is given a handmade box with 7 smaller boxes inside. Each is beautifully lined and contains a shell. With the box, Maggie gets a note that simply says, "Throw them all back." The first chapter details George (aka Gee) Keane's death and funeral, and its impact on Maggie.
As the book continues, we are granted a bit of insight into the people of Gee's past and all of the places he has visited in his life as a photojournalist. The best part of this book is that each of the chapters is a short story by a different author, quietly turning a page, allowing us to more deeply explore the overall theme of the book. "What is said theme?" you might ask. Well, grandpa Gee wants to remind us all to really look at the world around us and see the people in it. Ultimately, he is telling us that in learning about the people we are sharing the planet with, we will come to know ourselves.
I take photographs to leave evidence that I have paid attention. I borrowed this book from the library, but I am buying a copy for myself. I would strongly recommend it to any teen you know who is beginning a journey of understanding themselves.