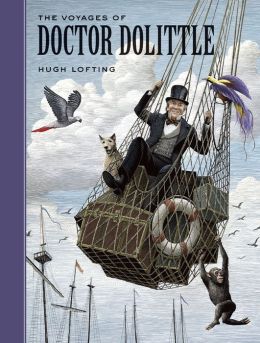 The Voyages of Doctor Dolittle
by Hugh Lofting
Well, between a Christmas Break filled with family and a trip homeward wondering if we would have power upon our return, I would say the last few weeks have been filled with adventures. I apologize for my lengthy absence, but "The Great Snow of 2012," has left my family without power for 7 days. The one advantage is that books require no electricity, so I have had plenty to do.
In 2013, it is my plan to make my way through some of the Newbery Winners and Honors books. Some of them I read during my childhood; others I missed entirely. The award was first given in 1922 to
The Story of Mankind
by (Liveright) Hendrik Willem van Loon. The award is given annually by the Association for Library Service to Children, a division of the American Library Association, to the author of the most distinguished contribution to American literature for children.
After considering the books that won the award in the 1920s, I decided to start with
The Voyages of Doctor Dolittle
by Hugh Lofting. The novel won the award in 1923. I am not sure if I read it as a child. I do remember seeing the film with Rex Harrison as the doctor himself. I loved the wondrous creatures in the movie, especially the pushme-pullyou and the great snail.
Making my way through the novel, that was revised and republished by Dell in 1988 to soften some language that could be considered insensitive, my imagination was immediately captured by the narrator Tommy Stubbins. His love for the Doctor and the animals he cares for and communicates with makes him irresistible. The doctor of the novel clashed with my mental image of Rex Harrison in the role. He is small and round and indifferent to his surroundings, depending entirely on the animals in his life to keep him on track. These dependable friends include Polynesia the parrot, Dab-Dab the duck, Jip the dog, and Chee-Chee the monkey. They stand by him until the end when they convince him to give up his kingdom and spirit away in the coils of the Giant Snail, back to his home and life work in Puddle-by-the-Marsh, England.
This book should be read and shared with the animal loving and imaginative readers in your life.