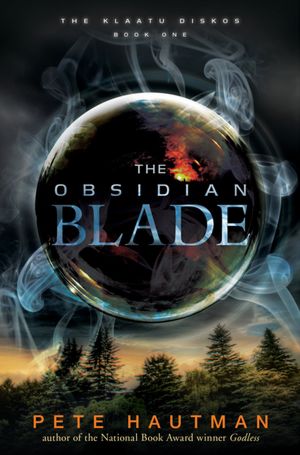 The Obsidian Blade
by Pete Hautman
One of my dearest friends asked me the other day, "Are you ever going to talk about a book you didn't like?" I told her that I wasn't sure. I am in this to increase the amount of time children and young adults spend reading books for fun, and just because I don't like a book, doesn't mean they won't. I subscribe to both
School Library Journal
and
the Horn Book
, periodicals that review and recommend books for Children and Young Adults.
The Horn Book Guide
, which strictly reviews books, gave
The Obsidian Blade
a 2. They grade books on a scale of 1-6, one being the best. They only give 1% of the books reviewed a 1 and 8% a 2. So, needless to say, because this is a trusted source, I put this book on my reading list.
It started out strong! I immediately liked Tucker Faye. He is a 13 year old boy living in a small town in Minnesota. His father is a preacher and his mother is a lovable woman who is dedicated to family and community. One day while Tucker's father is making a repair to a roof shingle, he vanishes. The only things out of place in that moment are his father's sudden disappearance and a hazy ring, that can be barely seen, hovering over the roof. One hour later Tucker's father is walking down the lane. He has a companion. He has lost his faith in God.
At this point I was hooked. I love a well written tale about time travel. Hautman also spends a good bit of time developing the characters, so I was invested in their outcomes. But, about two thirds of the way through, the story dives into a world (or time) of chaos that is filled with violence. More attention was given to events than characters, and it fell flat- FOR ME! Not only do I want a story to take me on a ride, I want to make new friends and learn something from them.
If you have a middle school reader, who loves science fiction, action, time travel and not just a little bit of violence, they are going to love this book. They will also love that this is planned to be a trilogy. I will give the next book a try, in hopes of learning more about the characters who were just beginning to grow on me. Let me know what you think of the book.