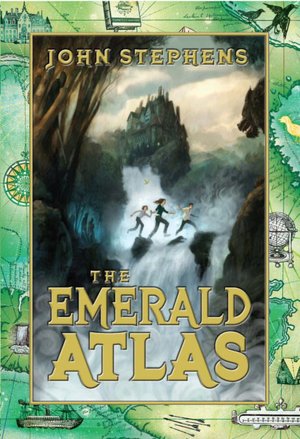 The Emerald Atlas
by John Stephens
Book club is going well, and I am meeting many new readers. It is one of the highlights of the work- finding those kids who have a reader inside, but have been lured away from the page by other activities like computer games, TV , or sports. I received an email from one of the parents thanking me for hosting the clubs and telling me what just one meeting had done for her daughter's attitudes toward reading. With this spark, I decided to give the child a bit of a nudge.
The novel
The Emerald Atlas
has been on my bedside table since last spring. It came highly recommended by one of my 4th graders, and it gets great marks from Horn Book. I picked it up, but have not made time to read it yet. I decided to give it to my new friend and ask her to review it for me. She is in fifth grade, and I thought that singling her out for help might be just the way to let her know I respect her as a reader. A few days later I received another email from her mom:
"Thanks for giving my daughter the extra book to read. She is devouring it partly because she was so proud you asked her for an opinion. Usually I check to make sure she hasn't gotten up to get on mine craft after bed. Last night she was trying to sneak reading!!!! Eureka!!!!!!!! She was so excited. She said "I can't believe Mrs. Bacon asked me to read this and not someone who's been in book club longer!". It's amazing how a little thing to us can empower a child! She's having a little bit rougher year. So that extra attention has really boosted her."
Magic... She is hooked, and if we all stick together, this girl will be reading for fun for the rest of her life.
As I mentioned before I haven't read the novel myself, but here is what Horn Book has to say about it:
"Siblings Kate, Michael, and Emma discover a book that transports them back fifteen years in time. Thus begins their adventure with the Atlas, one of three Books of Beginning--powerful magical volumes whose secrets brought the universe to life. This imaginative and enjoyable series starter explores the bonds of family and magic while setting up an inevitable good-versus-evil showdown."
I will be getting feedback from my new friend soon, if the sneak reading continues. Please read it with your middle reader and let me know what you think.