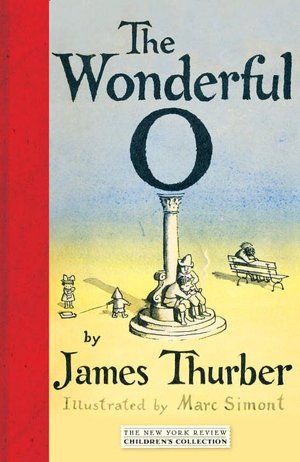 The Wonderful O
by James Thurber
illustrated by Marc Simont-winner of the 1957 Caldecott Medal
Summer is here in Arkansas and the heat in unforgiving. We have been forced indoors, so I am making may way through a few books. Today, I read one that is perfect for a read-a-loud, The Wonderful O by James Thurger. It has playful prose and witty language. I say, start reading and pass it to a family member when you are tired. It will only take an hour or two to read, depending on how often you pause to discuss or think up you own words.
The tale begins with two bad men, Littlejack and Black, a map and a ship. As you might guess they are in search of treasure and will let nothing stand in their way. They arrive on a quiet island and demand the treasure, but the villagers are unable to help. Black and Littlejack begin to turn the town upside down and tear it apart to achieve their goal. Black, however, has a strange dislike for the letter "O"so, along with destroying the property, he begins to destroy the language by outlawing the use of the letter "O". Try out this excerpt:
"Taking a single letter from the alphabet," he said, "should make life simpler."
"I don't see why. Take the F from life and you have lie. It's adding a letter to simple that makes it simpler. Taking a letter from hoarder makes it harder."
As I've said, it is a riot. Oh no, I've used too many "Ooooooooooo's".