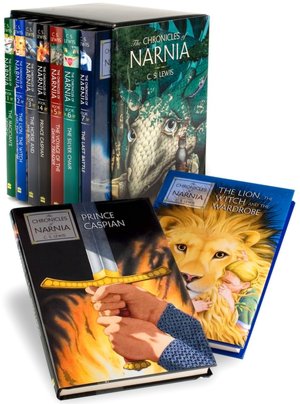 Chronicles of Narnia
by C. S. Lewis
As I gaze at my book shelves there are two book sets that remain from my childhood:
The Chronicles of Narnia
and
Little House on the Prairie
. I must admit, I made it through only two of the Laura Ingalls Wilder books,
Little House in the Big Woods
and
Little House on the Prairie
. I chose instead to watch the TV show religiously. I did, however, read all of the Narnia books. I started with the first book and made the progression through many times. It is a paper back set and the books barely fit into the original box, because I was so hard on the spines.
These days you will find
The Magician's Nephew
marked as book #1. It is the beginning of the tale and frankly ties for my favorite with the now #2 book,
The Lion, the Witch, and the Wardrobe.
The Magician's Nephew
contains a description of the beginning of Narnia, and it is one of the best creation stories I have ever read. The series has something to appeal to all sorts of readers: heroes in the form of girls, boys, animals and mythological creatures; adventures at sea and on land; friendships made and lost; families divided and reunited; and even a bit of romance. The primary theme of all of the novels is the triumph of good over evil. The theme is particularly poignant when you consider that Lewis imagined it during a time plagued by world wars.