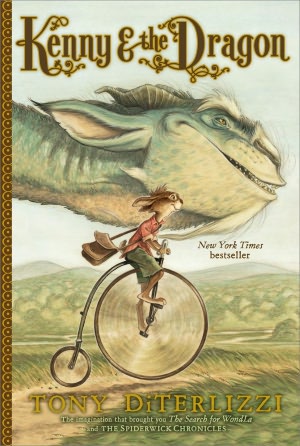 Kenny and the Dragon
by Tony DiTerlizzi
My son attends a year round school that my husband runs and I work for, so we are back to school as of yesterday. Among my duties at school, I run the book clubs. Walking in the halls today, some new third graders called out, "Mrs. Bacon, when will book club start." I happily responded, "Soon, very soon..." You see, one must be in third grade to join book club....they have been waiting a long time.
If you have a young reader at home, who is beginning to take the leap into chapter books, you must give
Kenny and the Dragon
a try. It is a wonderful retelling of Kenneth Graeme's classic tale, St. George and the Dragon. The musical story-telling makes me want to skip around the house, and the illustrations make each of the loveable characters jump off of the page and into your lap. You might recognize the hand in the drawings. Tony Di Terlizzi worked with Holly Black on the
Spiderwick Chronicles
and illustrated the poem, The Spider and the Fly, in an amazing black and white picture book.
I love to find a friend in the pages of a story, and Kenny is as loyal and true as they come. He befriends this highly academic dragon and works tirelessly to protect him when the animals of his village get dragon slaying on their minds.