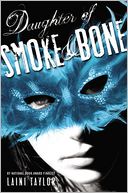 Daughter of Smoke & Bone

by Laini Taylor

Lately, I have been reading a lot of fine to good books. (Honestly, I never think of a book as bad, but instead that is just wasn't for me). It's always a fishing expedition for me, finding that book that will seduce me into staying up all night. I make every effort to narrow the search, checking other blogs, Goodreads, award lists and especially my horn book guide online subscription for glowing recommendations in my preferred genres, but still, I have been missing the mark.

The last book that completely occupied my imagination was Laini Taylor's

Daughter of Smoke and Bone.

(It was recommended to me by Ever who is part of the staff of my local independent bookseller, Wordsworth). As the sequel,

Days of Blood and Starlight

, will not be released until November 6th, I've decided to give one of Taylor's other books a try. I will let you know how it turns out.

But for those of you who know a lover of fantasy adventure, who has not read

Daughters of Smoke & Bone

, this is a book that promises to satisfy. The taut plotting nimbly moves the reader through its mysteries, as she becomes acquainted with Karou and the otherworldly life that she leads. Check out this New York Times Book Review:




Chelsey

Philpot

Any book that opens with "Once upon a time" is inviting high expectations. It's a phrase that inevitably evokes fairy tales and leather-bound classics about epic adventures, setting up the anticipation that readers will discover worlds filled with magic…In this case, the story that follows…is a breath-catching romantic fantasy about destiny, hope and the search for one's true self that doesn't let readers down. Taylor has taken elements of mythology, religion and her own imagination and pasted them into a believably fantastical collage.




—The New York Times Book Review




Give it a try and let me know what you think!